Special Speaker Dr. Michael B. Pawelke
Special Speaker Dr. Michael B. Pawelke
Saturday, January 16, 2016 - 7:00PM - 8:00PM
Sunday, January 17, 2016 - 10:50AM - 11:50AM

Important: This event has already occurred.

Multi Purpose Room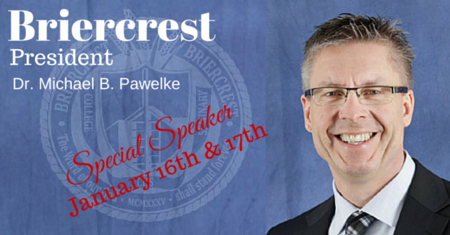 Dr. Michael Pawelke has served as the president of Briercrest College and Seminary since 2013.
He says, "My calling is to love, lead, feed, and seed. My primary calling is to love and honour God by pursuing my highest potential as a devoted, ever growing, and balanced disciple of Jesus Christ with a deep commitment to cultivating the values of faith, hope, love, obedience, authenticity, integrity, purity, humility, generosity, wisdom, compassion, perseverance, excellence, self-discipline, forgiveness, service, and joy.
My secondary calling is to love people and empower and ever increasing number to realize their highest potential as disciples for Jesus Christ. My priorities begin in my home as a considerate husband and involved father, and extends into the Christian community and into the world by providing effective leadership, equipping believers, and planting the seeds of truth in the lives of lost people."
Dr. Pawelke will be joining us on January 16th at 7:00pm to speak to the youth from Forest Baptist and surrounding areas. He will then be preaching God's Word to us in the morning service on January 17th.
For more information on Dr. Pawelke's ministry at Briercrest, check out www.briercrest.ca
Ministry Unashamed Youth & Young Adults Ministries
Return to Events
---