Missions Conference
Missions Conference
February 15 - 19, 2017

Important: This event has already occurred.

7:30PM - 6:00PM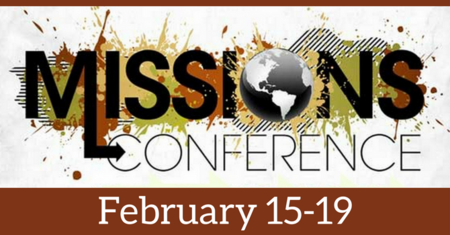 We are looking forward to a great Missions conference coming up! Please sign up on the church bulletin board to be a part of the many events offered during the conference.
Our guest speaker is Rev. Tim and Kathy Whatley who is the Executive Director of New Tribes Mission in Durham.
The mission project focus will be El Palmar Baptist Church in Manta, Ecuador.
The following is the schedule of events:
Wednesday:
7:30 pm- Opening Service
Thursday:
Noon- Pastor/Elder & Spouse Luncheon with Tim and Kathy
5:30 pm - Missions Committee dinner meeting with Tim and Kathy
7:30 pm - Ladies Tea & Dessert
Friday:
7:30 pm - Awana (T&T and Trek) with Tim and Kathy
8:00 pm - Youth Group with Tim and Kathy
Saturday:
8:00 am - Men's breakfast with Tim and Jason
6:00 pm - Missions Dinner Meeting with Crutchfield, Time, Jason and Erin. (Childcare provided)
Sunday:
9:40 am -S.S. Open Seeson
10:50 am - Sunday morning service with Crutchfield family and Tim
6:00 pm - Missions Conference Wrap-up service with The Crutchfield family, Tim and Jason
Saturday Dinner Prices:
Age 9 & under : FREE
Age 10-17: $8.00
Age 18 and up : $10
Family Rate: $35
Ministry Missions
Return to Events
---