Ladies Bible Studies
Ladies Bible Studies
Wednesday, March 16, 2016

Important: This event has already occurred.

9:15AM - 10:15AM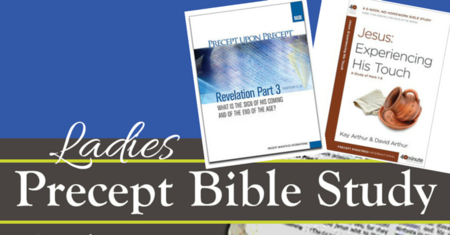 Ladies, come join us on March 16th as we begin two new Precept Bible studies!
Option #1:
We have a 40 minute study being taught by Pirjo Turnbull called "Jesus: Experiencing His Touch". This is the first 6 chapters of Mark's gospel, as JEsus interacts on a personal level with individuals cast aside by society. Come and join us in this powerful study and discover for yourself the difference it makes when you engage with Jesus personally as He touches your life. For more info contact Pirjo at 519-786-4014
Option #2"
An inductive study on Revelation (Part 3), called "What is the Sign of His Coming and of the End of the Age?" will be taught by Carol Cates. If you are a new student to Revelation, jump right in! The "review" homework will help prepare you to continue in the workbook. Lesson 1 is to be done for class on the 16th, so for that reason, please contact Marnie Montgomery or Gertie Bootsma to order your book.
Return to Events
---