Grace Life Conference
Grace Life Conference
Thursday, November 24, 2016 - 7:00PM - 10:00PM
Friday, November 25, 2016 - 7:00PM - 10:00PM
Saturday, November 26, 2016 - 9:00AM - 4:00PM

Important: This event has already occurred.

Forest Baptist Church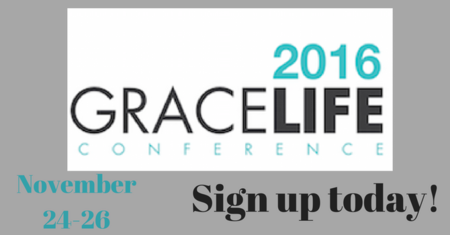 You are invited to attend the
Grace Life Conference
(formerly Exchanged Life Conference) that Forest Baptist Church will host from
November 24th to 26th, 2016
. The conference will be
Thursday
evening from
7-10 pm
,
Friday
evening from
7-10 pm
and
Saturday
from
9 am to 4 pm
.
About 25 years ago, Forest Baptist hosted this conference and many lives were significantly touched.
This conference explains from Scripture how to experience the
"abundant life"
God promised in John
10:10
, "
I have come that you may have life and that you will have it more abundantly.
"
The Grace Life Conference is not another self-help program or relaxation plan. It is an expanded teaching of Romans 5-8 that sets forth a practical application of the believer's identification with Christ in His death, burial, resurrection and ascension. It will provide insight and learning about who you are in Christ and how Christ can live His Life through you. (Galatians
2:20
, Philippians
1:21
)
You can
CLICK HERE TO REGISTER
. Payment will be made when you attend the conference. Cost is $60 per person or $100 per couple.

If you plan to come, please sign up as soon as possible.

If you have any more questions, don't hesitate to send Elizabeth Davis-Dagg an email or call her @
519.899.2535
.
Return to Events
---