"Chosen" For Such Times - Ladies Bible Study
"Chosen" For Such Times - Ladies Bible Study
Tuesday, January 12, 2016

Important: This event has already occurred.

7:15PM - 8:15PM
Fireside Room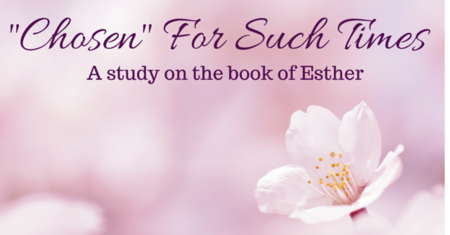 Esther was a woman with a tragic background and a dangerous secret that could cost her her life. The book of Esther reads like a high drama novel containing power struggles, murderous plots and yes, even humour.
Why would God choose an orphan, a captive, a Jew, and a woman to the be placed in such a dangerous sitiaton when He Himself seems to be in hiding.
Just imagine Esthers senese of aloneness and helplessness as she realizes that the future of a nation rests in her hands. She needed to be reminded that she had been "chosen".
Maybe you feel overwhelmed or confused with your station in life when possibly God has "chosen" you for such times.
Please join us Tuesdays evenings at 7:15 in the the fireside room starting January 12th. There is no book required for this study. Please contact Lynda Wright with any questions you may have or for more information.
Ministry Ladies Bible Study
Return to Events
---